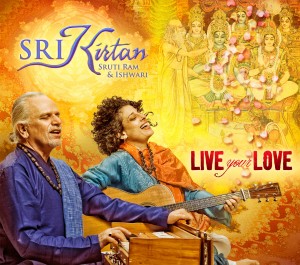 To order "Live Your Love "click below:
We also have a great T-shirt for $32 (includes shipping within US). It is thin Egyptian cotton.>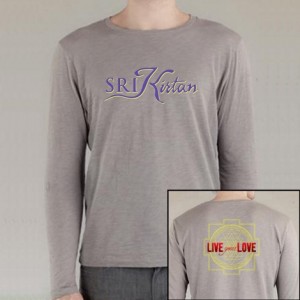 To buy "FIre of Devotion" or "In Divine
Love",  click on the link below, you can also send a check for $17.00 to:
Ishwari Music/ PO Box 63/  Woodstock, NY 12498

I Love Your CD!-Gary Goldberg
WRPI Radio
Sruti Ram and Ishwari  have created a CD of kirtan and sound that delivers a profound experience for the listener. Their performance at Omega's Ecstatic Chant created a feeling of spirit that moved all who participated.
This CD offers the authentic experience of bhajan.
Stephan Rechtschaffen
Founder, Omega Institute

'SRUTIRAM AND THE GROUP SHARE THE BLESSINGS OF SWEET DEVOTION WITH WONDERFUL EXUBERANCE"———KRISHNA DAS
"i've had the good fortune of knowing srutiram for more than 20 years,
and over the course of our friendship, sruti has continually inspired
me with his devotion and commitment to the light. this deep and
beautiful spirit permeates his new CD.——-JAI UTTAL"

Jamie Rusek is a practitioner in the Zen Buddhist tradition of Vietnamese teacher Thich Nhat Hanh. The music on the CD was inspired by his teachings and her personal experience. As Jamie's roots are in the Jewish tradition, this music is a blend of Jewish sound and Buddhist inspiration and will likely appeal to those who enjoy Jewish as well as spiritual music.
The CD also features two accomplished musicians, Paula Hanke, a professional singer whose warm, expressive voice lends the CD a sense of intimacy. The pianist, Francesca Tanksley is an internationally known jazz musician. Her arrangements are fresh and interesting even after many listenings.